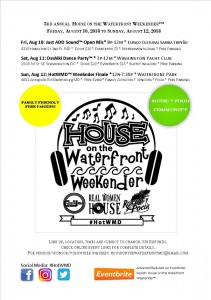 It's almost that time for our 3rd Annual House on the Waterfront Weekender™ 2018 Friday Aug 10 through Sunday Aug 12,2018.
Day #1 – The Opening Friday Aug 10,2018
We kick things off with Just Add Sound™ Open Mic *8pm – 12am* at Espaço Cultural Samba Trovão 4318 Hamilton St, Hyattsville, MD 20781 (2nd Floor)
entry $10 at the door. Eventbrite link coming soon with a discount ticket at $5 *refreshments avail and Free parking. Get your tickets today !
https://www.eventbrite.com/e/house-on-the-waterfront-presents-just-add-sound-open-mic-jasmd-tickets-47890398471
Event page and info: https://www.facebook.com/events/285345708706029/
—————————————————————————————————————————————————————————————–
Day #2 Saturday Aug 11,2018 The Dashiki Dance Party
Join #HotWMD for Day 2 of the House on the Waterfront Weekender as we present the Dashiki Dance Party!
Wear your favorite dashiki or African attire, as we celebrate our royalty through dance! Party time is from 3pm – 12am . Admission to this event includes a catered dinner ticket and a drink ticket. There will be no tickets sold at the door so get them now so that you can receive the Early Bird discount! Early bird discount until Monday, July 16, 2018 of $15. Tier 2: July 17 $20 per ticket.
We are proud to feature Cyberjamz Radio djs Selectress MizzKae, Tommy Wickens (A.Plane) of First Responders of House, Greg Gray of The Nu Bang Clan, and Sammy Rock aka Soul Oasis. Featured performance and set by Keith Thompson.
Early bird ticket pricing of $15 until Monday, July 16. This is a ticketed event. Advanced registration is required to attend. If you are interested in paper tickets, please contact houseonthewaterfrontmd@gmail.com SUBJECT: Dashiki Dance party printed tickets. Purchase your advanced tickets here: at eventbrite – https://bit.ly/2Kcou9j
*Catered dinner by one of our local favorites: Nich's Kitchen Menu available at the event.
*Donations accepted at the door.
Sponsored by Cyberjamz Radio™ Real Women House™ Rescue Poetix™ Management #hotwmd
————————————————————————————————————————————————————————————–
.
Day #3 – The Finale Sunday Aug 12,2018 (Free Event) 12pm – 7:30pm
This year will be even more entertaining than last ..Hope some of you guys can make it out.This main closing finale is held at Bladensburg Park in Maryland Sunday Aug 12,2018 from 12pm to 7:30pm .This is a free event so come out early and let's have a blast ! and did we mention it's FREE???
*Opening set rocking classics and more is our very own Lady Vintage Soul (LVS)
The House of Soul w/SammyRock aka Soul Oasis & DjHousecat(la gata de fuego)
Closing tag team show by Damond Ramsey & Sahib Muhammad.
*Live performance by Dana Weaver
*Special percussion set by Sheila Shabazz
If anyone attended last year. then. you know how much fun we had dancing,socializing and just chilling under the sun. The entire weekend turned out better than expected .This year come out and make History with us again !
Event page: https://www.facebook.com/events/272202490201324/