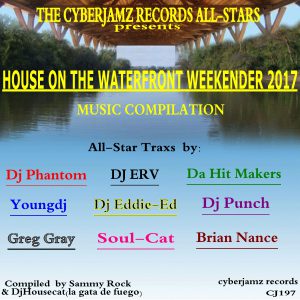 We are so pleased to introduce this House on the Waterfront Music Compilation by a few of our most distinguished producers on all of our labels.
I don't know where to begin with these gems as all the pieces are unique and cover a wide range of music from deep house to Latin soul..and from afro to house, there is something for everyone. We hope you enjoy and support this project. OUT NOW bit.ly/3x1n0nI
Tracklisting:
1)Feeling Good- Dj Punch (Baby Powder HOTWMD Remix) (9:33)
2)DJ Phantom – Ondekoza (Original HOTWMD Mix) (7:20
3)Deep In The Jungle – DJ ERV (HOTWMD Remix)(6:24)
4)Keep Me Close (Original HOTWMD Mix) (7:51)
5)Ed's Groove – Dj Eddie-Ed (Afro HOTWMD Jazzy Mix) (6:34)
6)Rise – Da Hit Makers (TSmooth & Dave B Just a HOTWMD Drum Mix) (6:24)
7)Brian Nance Feat. Manny Mann Your Love Take Me Away (6:21)
8)Inspiring Legends 2013 SoulCat (Broken Latin HOTWMD Soul Mix) (7:02)
9)Inspiring Legends 2013 SoulCat (Broken Radio Mix) (2:37)
Produced and compiled by The House of Soul
SammyRock & DJHousect(La gata de Fuego)
co-produced by The Cyberjamz All-Stars (Various as listed on the tracklisting)
cover by JorgeG Graphix and Design & SammyRock
Various artists and producer info
contacthousecat@gmail.com
sammyrockmail.com
About this Comp & All-Star producers
In the spirit of giving, these guys came together and decided to pitch in by providing a track as all sales and proceeds go towards our cost for this awesome event. We truly hope you guys can go out and support us by purchasing this wonderful dance floor-filled Music Compilation by our Cyberjamz /Toupee Records All-Stars.
I would like to thank Walter Phant Ellison (Dj Phantom), Erving Batista (DJ ERV), Edward Ward (Dj Eddie-Ed), Moloko Manganyi, Da Hit Makers (Djtsmooth Farrar & David Barber ), Dj Punch of Baby Powder Music Ben Brisca ( BrianTech aka Brian Nance ) and finally my best friend and partner Catherine Harris Rowell ( Dj Housecat (la gata de Fuego) aka SoulCat (SammyRock & DjHousecat) for participating in this wonderful project.
Stay connected to #HotWMD to keep up to date on event details and features
https://www.facebook.com/hotwmd/
Follow us today!
http://www.instagram.com/hotwmd/
Hashtaggit #hotwmd