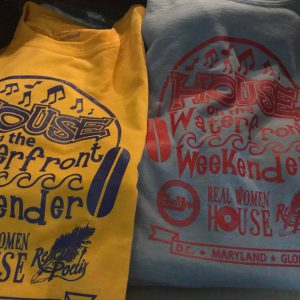 To the few that have PMed me about how else they can support and contribute to our #HOTWMD™ 2023 events.
You can make a contribution by purchasing an official House on the Waterfront™ tee shirt for $22.50 or Real Women House™ tank top and soon to come t-shirts for $22.50
When placing an order please make sure to add size, color, your name, address, and suite or apartment number. (COLORS VARY)
Payments are being accepted in the following apps.
Cash App – $housecat81
Venmo – @Catherine-Harris-Rowell
PayPal houseonthewaterfrontmd@gmail.com
Real Women House™ order info https://bit.ly/2Xz1SSL
All proceeds go toward this year's events to help offset some of the cost.
The 6th Annual House on the Waterfront Weekender Event™ info & Save the Dates Friday, Aug 11th thru Sunday Aug 13,2023 https://www.facebook.com/events/608191789610440/
Stay Connected:
Instagram https://www.instagram.com/hotwmd/
Twitter
https://twitter.com/HotWMD
https://hotwmd.com/
*site is under construction
More info contacthousecat@gmail.com
thank you all in advance. The #HOTWMD Family.