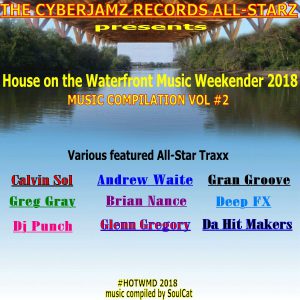 Hot Compilation Alert: House on the Waterfront Weekender 2018 Music Compilation Vol#2.Cyberjamz Records All-Starz (Various Artist) out now bit.ly/3z3wykW
This year we are proud to once again release our second edition of #HOTWMD Music Compilation which is a reflection of different genres of music ranging from soulful house to afro, to tech, there is something for every deejay and dancer in this package. Our all-star cast of producers this year comes from all parts of the world and each offers their own dance floor interpretation of house music.
All-Star Music selections by newcomers Calvin Sol, Glenn Gregory, Dj Andrew Waite & Gran Groove respectively. In addition to our new members, we have our original team of Greg Gray (sensei), Deep FX, Da Hit Makers, Dj Punch & SoulCAT (SammyRock & DJhousecat(La gata de Fuego). We want to thank you all for participating in this compilation and for believing in what we doing and continuing to keep our musical culture alive.
**All proceeds of this special compilation go towards the cost of our event.
In the meantime, if time permits join our fan and info page and stay connected at https://www.facebook.com/events/718524428350721/
Follow us today
http://www.instagram.com/hotwmd/
hash taggit at #HOTWMD