The 20th year anniversary of Cyberjamz Radio! In honor of this momentous occasion, we are hosting a Music Marathon that will keep the rhythm going all day and night.
The Cyberjamz Radio 20th Anniversary Music Marathon is a tribute to the rich and diverse world of house music that has influenced and transformed the electronic music scene over the past two decades. From the soulful beats of deep house to the infectious rhythm of Afro-house, our marathon will showcase the incredible talent and dedication of our community.
Our lineup is an impressive collection of DJs, producers, and musicians from around the globe. Each artist has been carefully selected to bring their unique sound and style to our virtual stage, ensuring a continuous flow of music that will keep you grooving. From established names to rising stars, our roster features an array of talent that represents the past, present, and future of house music.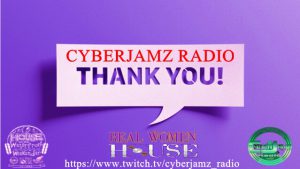 But it's not just about the music. The Cyberjamz Radio 20th Anniversary Music Marathon is a celebration of the people behind the music, the listeners, supporters, and contributors who have been a part of our journey. It's a chance to come together as a community, to share our love for house music, and to give thanks for the incredible experiences we've had over the past 20 years.
Throughout the marathon, we will also be featuring interviews and conversations with some of the most influential figures in the industry. These discussions will provide insight into the evolution of house music and the role that Cyberjamz Radio has played in shaping its future.
Whether you've been a longtime listener or are just discovering Cyberjamz Radio for the first time, this Music Marathon is an event you won't want to miss. So mark your calendars, grab your dancing shoes, and get ready to celebrate 20 years of incredible music with Cyberjamz Radio. Let the beats take you on a journey and join us in this historic celebration!
Thanks to ALL that participated.
SammyRock aka Soul Oasis
Catherine Harris Rowell (DjHousecat La gata De Fuego)
Check us out at CTRN – Cyberjamz Twitch Radio Network.
https://www.twitch.tv/cyberjamz_radio
Stay Connected
#HOTWMD website https://hotwmd.com
FB https://www.facebook.com/hotwmd/
Instagram https://www.instagram.com/hotwmd/
Twitter https://twitter.com/HotWMD