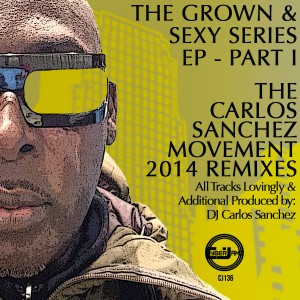 Cat @ CJ136
The Carlos Sanchez Movement pres. The Grown & Sexy Series E.P Part 1 Cyberjamz Records, Target Release Date – April 25,2014.
Carlos Sanchez returns with this exceptional Grown & Sexy Series E.P Part 1 i dedicated to the grown and sexy. This E.P features a wonderfully captivating piece by the Grammy-Award winning, Gregory Porter entitled "Lonely One". Also included in this fantastic release is a deep sensual vocal entitled "Come Down In Time" by Kenny Lattimore. A wonderful deep number by Dwight Trible entitled "Little Sunflower" which is sure to delight the dancers.Also included in this full package for the grown and sexy is a nice piece entitled "Matter of Time" performed by Kem and given a edit treatment from Sting International.Finally wrapping up this hot package is the lovely Ledisi, offering the sensual vocal piece "Lost and Found" which is remixed lovingly by Carlos Sanchez.
We are sure that you will find this package and music series one for the dancers and dance floors across our world ! Score one for the beautiful Grown & Sexy people of house music.
Tracklisting:
1.Lonely One (Around Midnight Vocal Mix) (5:52)
2.Lonely One (JazzMental Mix) (5:52)
3.Come down in time (Csanmovement Rmx) (8:19)
4.Little Sunflower (Movement Rmx) (7:26)
5.Matter Of Time (Csanmovement RMX) – Sting International Edit – (5:56)
6.Lost & Found (Csanmovement Full Remix) – (8:25)
7.Lost And Found (Csanmovement Radio Remix) (3:52)
All tracks lovingly produced by Carlos Sanchez.
Keep your ear to the ground – Cyberjamz Records 2014.