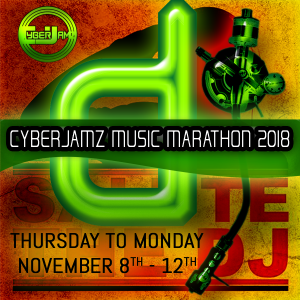 The Official Cyberjamz Radio 15 year Anniversary Music Marathon going down LIVE at our home Thursday, November 08 through Monday, November 12,2018.
If you have never experienced any of our past music marathons at Cyberjamz Radio, then you don't know whatcha missing. This year is going to be extra special as we have added one more day to this on-line event. We are super excited to mention that a few of our past music programmers will be rocking with us on a one-time ode to our site which includes a dope set by 280 West own Mark Mendoza, Duce Martinez of Dwildmusicradio.com and Adam Cruz of the Freedom Hour Show who is one of our original music programmers back circa 2003 – 2009 or more,so mark your calendars and plan to hang out with us even if for a moment.
*All show times are Eastern Standard Time (USA).