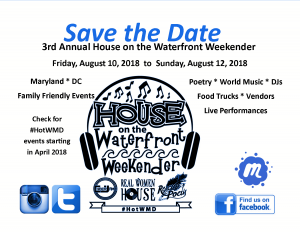 Letz go !
The Cyberjamz Radio, Real Woman House & JAS Rescue Poetix presents: The 3rd Annual House on the Waterfront Weekender 2018.
We pray that this year will be even more entertaining than last ..Hope some of you guys can make it out.
The dates are Friday Aug 10 to Sunday Aug 12,2018. (The main closing finale is held at Bladensburg Park Maryland (DMV) DC/Maryland/Virigina area (USA) on Sunday but the other day one and two events are to be held during the weekend and info will be posted soon.