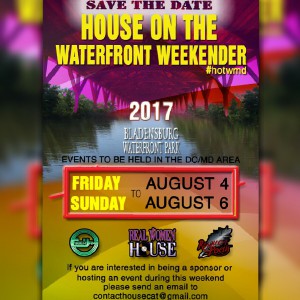 This year we plan on making it even BIGGER !!!
The Official 2nd Annual Cyberjamz Radio, Catherine Harris Rowell of Toupee Records/ Real Woman House & Rescue Poetix(tm) Management pres: House on the Waterfront Weekender Friday Aug 04 to Sunday Aug 06 ,2017 in Bladensburg MD.
Official Facebook Event Page.
https://www.facebook.com/hotwmd/
Follow us today !
http://www.instagram.com/hotwmd/
Hashtaggit – #hotwmd
** If anyone would like to support our 2nd Annual House on the Waterfront Weekender in Bladensburg MD ,please purchase one of our shirts as all sales and proceeds go towards the cost of our Weekender Aug 04,-Aug 06,2017..
Tee-Shirt Link – http://bit.ly/2gkgajQ
About event – http://bit.ly/2jpJR5l
Become an official HOTWD Sponsor contact:
contacthousecat@gmail.com
sammyrock@mail.com