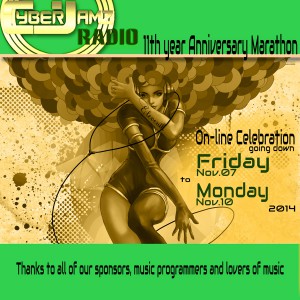 Cyberjamz Radio celebrates it's 11th year Anniversary at the end of this month !
Joins us for another music marathon to be held Fri Nov.07 to Monday Nov.10,2014.For those that have experienced our Anniversary Music Marathons in the past,this one is gonna one for ages ! More info and line-up to be posted soon.
Thank you to ALL of our sponsors,music programmers and lovers of music for all the support throughout the years of us serving our music community.
We love you ALL.
SammyRock and the CyberJamz Radio Team.
http://cyberjamz.com