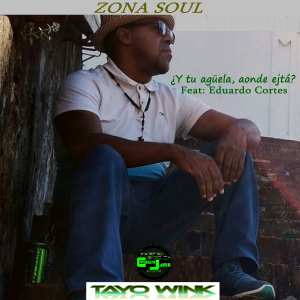 Hot Release Alert! Zona Soul feat. Eduardo Cortes – Y Tu Aguela Aonde Ejta? deeperSIDE of Cyberjamz Target release date July 10,2020
OUT NOW Y Tu Aguela Aonde Ejta? Tayo Wink (Zona Soul) – https://bit.ly/3fg1Nw9
Tayo Wink aka Zona Soul feat Eduardo Cortes is a serious old school spoken-word piece that is very popular in our Island of Puerto Rico. The piece explains our ties to our African Ancestors and Taino Indian roots and how our skin color is Black and our hair kinky. Zona Soul laced this joint with a serious Afro-Latin groove to make it even more enjoyable.
Lyrics produced by Fernando Fortunato
performed by Eduardo Cortes
Music produced and re-jammed by Zona Soul – Tayo Wink.
cover by Tayo Wink.
mastered at Zona Soul Studios, Fajardo PR
tayowink@gmail.com
*Everything Tayo Wink or Zona Soul pick them up here —> https://bit.ly/2BMlEo9