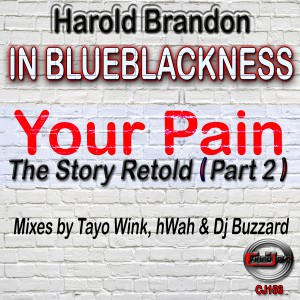 Cat#CJ156
Title: Your Pain – The Story Retold (Part 2)  (Mixes by Tayo Wink,Dj Buzzard & hWah)
Artist: Harold Brandon – IN BLUBEBLACKNESS
Your Pain – The Story Retold (Part 2 Remixes) – Mixes by Tayo Wink,Dj Buzzard and hWah from Norway !
Harold Brandon IN BLUEBLACKNESS out now !! Get it here: http://bit.ly/1IkqrJT
** Tayo Winks Afrosensual Mix is a Traxsource Essential for this week ! Back to back baby !
This story gets retold by top Cyberjamz Records producers Tayo Wink,hWah and Dj Buzzard.Each remix delivers a unique style in which is very different from the Original Story. The musical journey takes us on a ride with vocals by Harold Brandon IN BLUEBLACKNESS.
So take your pick or choose them all,you won't go wrong with this story retold !
Harold Brandon 'InBlueBlackness' "Your pain" (Part 2 – The Story Retold)(CyberJamz Records CD Promo)
Just a few weeks after we were celebrating the long awaited release of the phantasmagorical "Your pain" by Chicago's own Harold Brandon, part two dubbed 'The Story Retold' arrives. What else can we say other than Tayo Wink, DJ Buzzard and hWah deliver truly phenomenal interpretations which take the song to a whole new level, with each remix (re)telling the story through a unique style, keeping the vibe soulful yet enthralling while at all times letting Harold Brendan's inimitable voice shine. In other words, a marvelous release taking you on an exhilarating musical journey you wish would never end…
Reviewed by Mike Fossati of Spirit of House
**purchase Your Pain – The Original Story (Part 1) out now
http://bit.ly/1W1Ixqy
Traclisting:
1) Tayo's Afrosensual Mix (8:42)
2)Tayo's In The House Mix (9:28)
3)A Dj Buzzard Rethought Mix (6:33)
4)A Dj Buzzard Contact Cement Rethought (6:33)
5)hWah`s Stellar Disco Remix (8:18)
all vocals performed by Harold Brandon
produced and written by Darren H. Brandon, "IN BLUEBLACKNESS" productions
DHB Music ASCAP 2015
additional productions & music composers
Tayo Wink for Coyote Entertainment
DJ Buzzard Publishing: Drazzub Arts Publishing (ASCAP)
**hWah`s Stellar Disco Remix is produced, arranged by hWah – Oslo,Norway
cover: JorgeGraphix
licencing and contact:
midee500@hotmail.com
sammyrock@mail.com
**purchase Your Pain – The Original Story (Part 1) out now
http://bit.ly/1W1Ixqy
Keep your ear to the Ground
A&R SammyRock for Coyote Entertainment 2015.