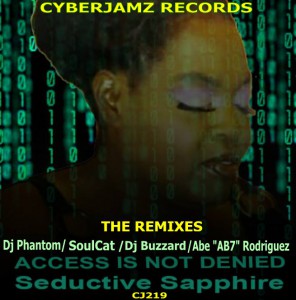 Your Access is not Denied (Again) – Seductive Sapphire – The Remxies (Dj Phantom,Dj Buzzard,Soul-Cat & Ab7)
Seductive Sapphire returnes with a new set of remixes to reprsent on the dance floors. Drop any of the mixes as they are all different ranging from Dj Phantom's dope Afro Mix to Dj Buzzard who goes on a deeper journey.The SoulCat Edit by yours truly SammyRock and Djhousecat(la gata de fuego) makes for very nice breakdown for dancers to enjoy and finally Abe Ab Seven Rodriguez delivers a deep minmal ride for those late night hours.
All and all this is a very good package to add to your Cyberjamz Records collection.
All vocals written and performed by Sheila Johnshon
produced by SammyRock aka Soul Oasis
co-produced by Walter "Dj Phanton" Ellison, Hugh Harrell IV – Dj Buzzard & Abe Ab Seven Rodriguez
Cover by Michael Menton
*Pick up Part One Mixes today https://bit.ly/2oGbFWk
Another SoulCat Joint 2018