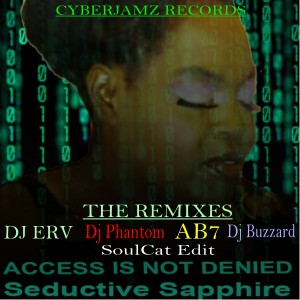 Hot Release Alert.
Your Access is Not Denied (Again) Part 2 – Sheila Johnson – Seductive Sapphire – Remixes by SoulCat Edit Dj ERV ,Dj Phantom,(dj buzzard) & AB7
Whoot Whoot.. poot yo handz in the air and wave em like you don't give a damm. A dope package with sizzling spoken word by Seductive Sapphire. This package offers jam remixes & hot edit mix by yours truly SammyRock aka Soul Oasis & Catherine Harris Rowell DjHousecat(la gata de fuego) aka SoulCat ,followed by a dance floor favorite by Erving Batista (Dj ERV) . Walter Phant Ellison – Dj Phantom delivers an unreleased mix while Hugh Harrell IV (dj buzzard) surprises us with an awesome remix. Last but never least we go deep down underground with Abe Ab Seven Rodriguez (AB7) which caps off this second edition remix package.
coming in Jan 2018 – Cyberjamz Records.