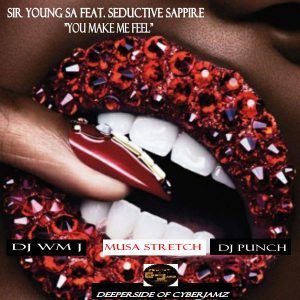 PICK IT UP OUT NOW! – You Make Me Feel
Seductive Sapphire, Sir Young SA Deeper Side of Cyberjamz Records – https://bit.ly/3hFsz2N
Courtesy of South African DJ/producer Sir Young SA (aka Moloko Mangany) and spoken word artist Seductive Sapphire comes the huge "You make me feel" a tantalizing afro-deep track which combines the one-of-a-kind poetry by Seductive Sapphire with inebriant synth melodies and deeply groovin' rhythms. The cherry on top are the excellent truly varied remixes by DJ Punch, DJ WM J and Musa Stretch all adding their unique touch to take the track to the next level.
Michael Fossti
Spiritofhouse.com.
all lyrics and vocals performed by Sheila Johnson (Seductive Sapphire)
Sheila Johnson BMI 2016
produced by Sir Young SA
Track #2 Dj Punch Remix produced by Dj Punch for Baby Powder Music
Track #3 produced by Musa Stretch for Mansa Music
Track #4 produced by Dj WM J
mastered at Zona Soul Studios, Fajardo PR
tayowink@gmail.com
Another SoulCat Joint 2020
Keep it to the ground.. deeerSIDE of Cyberjamz 2020