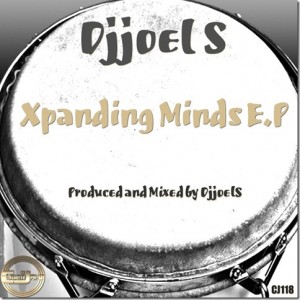 Djjoel S comes correct with this banging 90's House Music release with all the right elements for dancers across the world ! This is HOT  !
out now !
Djjoel S – Xpanding Minds E.P out now !
http://traxsource.com/title/221361/xpanding-minds-e-p
The "Xpanding Minds EP" by Djjoel S. is an exhilarating journey to deepest imaginable house music grounds, with each of the three featured tracks bringing back memories from the past – to cut a long story short, deep house at its best. Nuff said!
Review by Mike Fossati of Spirit of House
Cat #  CJ118
Artist: Djjoel S.
Release Title: Xpanding Minds E.P
1)Godz Drumz  (11:37)
2)Shadow Drumz (8:00)
3)Tonight (8:46)
All tracks produced and mixed by Djjoel S.
Artwork: Jorge G.
licensing and info:
DjjoelS Facebook:
https://www.facebook.com/DjjoelS
The Site:
https://cyberjamz.com
Sammy Rock/Cyberjamz Facebook
https://www.facebook.com/sammy.rock.319
Twitter:
https://twitter.com/_cyberJAMZ
A&R  Soul-Cat for Coyote Entertainment ASCAP 2013.