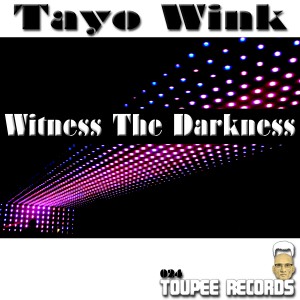 Cat#Toupee024
Release:Witness the Darkness/ Ole Ola (Homeage to India)
Label: Toupee
Witness The Darkness/ Ole Ola (Homage To India) :out now ! http://bit.ly/1KTPW55
What can I say about this slamming Toupee Records release? Tayo Wink has been on a serious musical production mission and this release blows things wide-open.In this fantastic package we have 2 soulful afro-house pieces entitled Witness the Darkness,both offering dark synths and pounding drums.On the flip side we have the banging Ole Ola(Homeage to India), a hot percussion flavored piece with all the right elements to make you dance ! By far this has to be one of Tayo Wink's best releases to date ,not to take away from all the other offerings of which have a musical life of their own.
Score a WIN for this artist,producer and label.
Early support from  Catherine Harris (DjHousecat(la gata de fuego) ,  Hakeem Syrbram , Robert Shorthouse (RHOUSE) ,  Hippie Torrales ,  DJ Hippie Torrales Rescue Poetix Rescue Poetix  Sheila Johnson & more !
Track List:
1)La La La Ole Ola (Original Mix) – 8:16
2)Ole Ola (Homeage to India) – 8:16
3)Witness The Darkness (Tayo's Afrostructed Mix) – 7:41
4)Witness the Darkness (Original Mix) – 7:41
All tracks produced and mixed by Tayo Wink
Cover:JorgeGraphix
Booking and contact info:
Tayo Wink – http://on.fb.me/1K9k9g2
Releases – http://bit.ly/1QNU362
Toupee Records – http://bit.ly/1BJCSfl
Cyberjamz Records – http://bit.ly/1TL6a2L
** also avail at http://junodownload.com
Label A & R Catherine Harris
http://on.fb.me/17FB1d5
Another Soul-Cat Joint 2015.