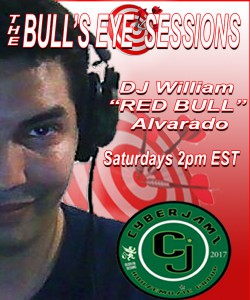 Cyberjamz Radio welcomes William The RedBull Alvarado to our Saturday line up! Catch him from 2 – 4 pm est at Cyberjamz Radio & C.T.R.N (Cyberjamz Twitch Radio Network https://www.twitch.tv/cyberjamz_radio – https://cyberjamz.com
Bio:
William "The Red Bull" Alvarado was born in the South Bronx and raised in Manhattan in New York City. His parents and grandparents were involved in creating music covering many different genres and were responsible for inspiring William to follow in the same footsteps. At the early age of 16, he became intrigued by the sounds of the underground known as house music. In 1989 Williams's first club experiences started with the Legendary Club Zanzibar in New Jersey and that was the moment that caught his attraction to house music at that point, I wanted to be involved with this beautiful style of music. This fascinating movement got him to support and promote it and he also decided to invest his time and money in DJ equipment.
William "The Red Bull" has played at such venues as Soulgasm, East River Park Amphitheater, The Village Lantern, The Recoup Lounge, Bautista Lounge, Coney Island 10th Street Broadwalk, Virginia Beach Parties, LP n Harmony, The Sullivan Room, Sapphire Lounge, Beats n BBQ, Franks Lounge, Lovecraft Lounge, Camaradas, Hudson Guild, St. Columba's Church Halloween Party and at Tapestry on the Hudson. His sound is a combination of Deep, Soulful, Afro, Underground rare grooves with a touch of classic disco.
At the present time William "The Bull" Alvarado can be heard at the award-winning Cyberjamz Internet Radio every Saturday from 2 pm to 4 pm eastern standard time. If time allows, please catch the archives of my current shows, you won't be disappointed. Stay tuned for more upcoming developments.