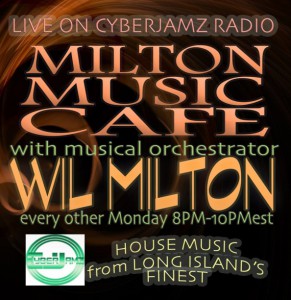 Wil Milton Music Cafe now airs every Tuesday nights from 9pm – 11pm est at Cyberjamz Internet Radio.
BIO: Dj Wil Milton
Wil Milton is a New York-based DJ/Producer, Songwriter, and has been in the business for over 22 years. Wil has traveled to Japan, Toronto, Los Angeles, and obtained a huge following on the national and international levels.
Wil had the opportunity to work with present and past legends, such as David De Pino & Joey Llanos (The Paradise Garage), Louie Vega (MAW), E-Man (Bang The Party), Matos & Mateo, Kevin Hedge (Blaze), Timmy Regisford (The Shelter), Basil, DJ Camacho, Jody Watley, Colonel Abrams, Ultra Nate, Mariah Carey, Carlos Sanchez, Ian Friday, Kervyn Mark, Oscar P, Tony Touch, Rock Steady Crew, Ruben Toro, Ryo Watanabe, Danny Krivit, Nick Jones, Mariah Carey, Toshiyuki Goto, DJ Yoshihisa H., DJ Katsura, Adam Scott, KimBlee, Jose Carretas, Popstar, Joey Mazza, Jihad Muhammad, Alfredo Norse, Naeem Johnson, Darryl D' Bonneau, Monique Bingham, Lou Gorbea, Eddie Stockley, SuSu Bobien, Stephanie Cooke, Andre Collins, Byron Stingily, Joann & Red, VooDoo Ray, Dawn Tallman, The late Sybrnah Pope and Francois K (Body & Soul, Deep Space).
There were many opportunities for Wil, as he played in venues that have made major contributions to the nightlife around the world. Such events were The Shelter, Bang The Party, The Paradise Garage reunion party for Larry Levan, House Nation, ROOTS (with Louie Vega/Kevin Hedge, CIELO (NYC), Together In Spirit, Santos Party House (NYC), The Spiegel Tent-South Street Seaport (NYC), Coffee Cave NJ, Club Elevation-43rd Street Café (N.J.), Funk Box (NYC), Touch Tuesday, Sullivan Room (NYC), The Green House (NYC), The Delancy (NYC), LP n' Harmony (NYC), GRAVITY, The Warehouse, The Melting pot (NYC), For Those Who Know (L.A.), Temple (NYC), BREATH (Japan), Yellow & AIR- (Japan Tokyo), Precious Hall- (Sapporo Japan), and Club Block- (Gunma Japan). He was also given the opportunity to play on 98.7 Kiss FM (NYC).
Currently, Wil and his production company are developing new and unsigned artists, recording an album, and continue to work with various record labels within the national and international territories. Wil has had two smash hits of the year 2006, with Run to Me, on Grammy Award Winner Louie Vega's VEGA Records, and GRAVITY and The TRIP on King Street Sounds. You can catch DJ Wil Milton @ his weekly Internet radio show "Milton Music Café. All of Wil Milton's Music is available on iTunes, CDBABY, TRAXSOURCE, DANCE TRACKS DIGITAL, STOMPY, EMUSIC, LastFM, and Amazon.
For more info on Wil Milton, log on to www.miltonmusicgroup.com
Contact Info: wil@miltonmusicgroup.com 917.913.4271