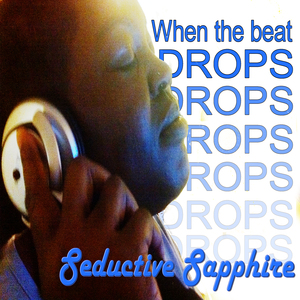 Seductive Sapphire – When The Beat Drops [Cyberjamz]
out now ! —->  http://www.traxsource.com/index.php?act=show&fc=tpage&cr=titles&cv=154825
Already doing the rounds on promo but not due for full release until the end of May, this latest release from Cyberjamz has just about everything you could hope for if you like your house with depth, soul and subtlety. "When The Beat Drops" has plenty of mixes to choose from which ensures that there's something to suit almost any time in the night and to cater for the most discerning audience. Running through the options, "DJ Sound Science's Deep Mix" is simply captivating with soothing vibes, soul drenched keys combined with chugging rhythms and analog bass to create the perfect vehicle for the spoken word vocals. The lyrics are intelligently crafted and describe the euphoric effect of the DJ on the vocalist and the rest of the crowd.
The "Tayo Wink Werk Mix" is more energetic with a slightly darker vibe that's created by impactful synths and a killer bassline.
"Eddie Ed's Tech Dub" is a cross between the modern day deep tech and original Detroit sounds and is most certainly one for the main room. The final mix in the package is the
"Soul Cat's Seductive Drum Remix" which takes me right back to the Chicago sound circa 1988-89 but is stripped right back to the bare minimum. Deep seductive grooves all round and maybe even track of the week…
Reviewed by Dean Serafini