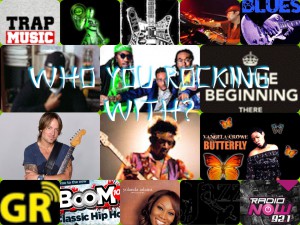 Cyberjamz Internet Radio is proud to welcome Mz.Neicy as an official sponsor of our site.
Ms.Neicy has been one of our stations biggest fans and followers of our shows and music programmers spanning the last ten plus years and for that we are grateful to have her as an official sponsor.She is also the creator of her new music group page on Facebook entitled "Who you Rocking With" ? which is a collection of House,Hip Hop, R&B and Latin music artist,producers and programmers from around the world.If time permits visit,follow,like and become a member of Who you rocking With ? on Facebook
https://www.facebook.com/MsNeicy68/
About Mz.Neicy
Hello my name is Leonetta Faulkner from Baltimore, Md. I have been avid listener and lover of house music since 1984. I was a frequent visitor of Cignals and other clubs in Baltimore and Europe. In my experience I appreciated various types of house, tech, edm, and soulful. My group/page Who you working with was a dream come true and a platform for us fans of DJ's and music, to show our appreciation for the music and their art.
The Award Winning Cyberjamz Radio is who I rock with and always they will have my support because of the many talented music programmers and family that are always available all day to listen to 24/365 and it's MY HOME !!
Follow us on instagram
https://www.instagram.com/cyberjamz/
#cyberjamz, #cyberjamzradio , #houseofsoul , #now playing #HOWMD, #housemusic #dance, #dancemusic, #realhousemusic, #housemusicallnightlong, #internetradio, #housedj, #femaledj, #cyberjamz, #afrohouse, #latinhouse, #undergroundhouse, #housemusiclovers #househead, #housenation, #remixer #musiclovers #deephousemusic #techhouse #chicagohousemusic #soulfulhouse #gospelhouse #classichousemusic, #disco, #houseparty, #downtempo, #musicislife, #dj, #djlife, #djstyle, #neosoul, #oldschoolhiphop #edits, #electronicdancemusic