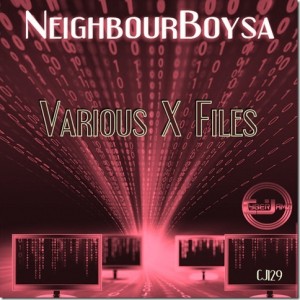 Cat # CJ131
X-Files E.P – NeighbourboySa
Cyberjamz Records
out now —>
Come and travel with us through the mind of South Africas best kept secret producer NeighbourboySa as he delievers five our of his music valut gems.This collection defines how far afro-deep has become and these pieces are without excepetion as each one offers a unique sound that will keep your dancers in a frenzy !
NeighbourBOYSA returns with a collection of Various Music Mixes/ X- Files never heard before and now out of the vaults of this fantastic gifted producer out of South Africa.Those familiar with his work will find these cuts to be excellent for any dance floor and can be dropped at any time during your sets.
[I WILL DO ANYTHING & EVERYTHING FOR CYBERJAMZ) ! is NeighbourBOYSA motto and you will be able to experience why this is true.
Tracklist:
1)In the Forest  (8:19)
2)African Forest (8:04)
3)Any ideas(deep tribe) (7:38)
4)Bohloko  (7:18)
5)Good boy my Son (7:48)
6)Komeng (7:39)
Produced by  NeighbourBOYSA
[I WILL DO ANYTHING & EVERYTHING FOR CYBERJAMZ) !
Artwork: Jorge G.
Pick up his other banging releases out on Cyberjamz Records
Sounding Planet E.P
http://traxsource.com/title/179299/sounding-planet-e-p
The Deeper Sounds of NeighbourBoysa E.P  feat. RescuePoetix™ – http://traxsource.com/title/197641/the-deeper-sounds-of-neighbourboysa-e-p

To be Hypnotized E.P
http://traxsource.com/title/229850/to-be-hypnotized-e-p
artist info:
Facebook:
https://www.facebook.com/neighbourboysa
Twitter:
https://twitter.com/NeighbourBoysa
A&R Sammy Rock for Coyote Entertainment  ( ASCAP) 2013.