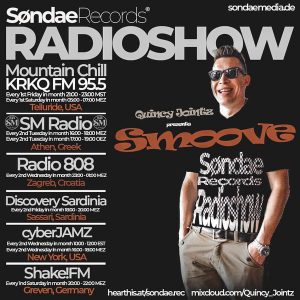 The Sondae Records Radio Show featuring Quincy Jointz presents a once a monthly surrounding music from across the World. This show airs every second week of the month on Weds from 10am – 12pm est USA TIME. at Cyberjamz Internet Radio.
I´m a DJ and producer from Germany and currently running the Sondee Records Radio Show titled "QUINCY JOINTZ" presents of which is broadcasted in Greece and Serbia.
Now this show has traveled to the USA and airing at Cyberjamz Internet Radio ( https://cyberjamz.com ) once a month (2nd Weds) from 10 am – 12 pm est. Now you too can now catch this unique show featuring some hot vibes off my label and different tracks that fit our format. Each show will also feature a 60-minute guest mix which will be announced each month. I hope you guys in the USA can enjoy the styles of House, NuFunk, Disco, Electronica we offer on our shows. I already have commitments for guest mixes by DJs like Smoove (UK), Ursula 1000 (NYC), Timewarp Inc (Greece), and many more.

Bio & Info,
Quincy Jointz celebrated his 30th DJ-anniversary with a new single "Get up"Funky and damn groovy" – these 4 simple words describe the style of Quincy Jointz in a perfect way and it still fits after 30 years on the decks. So if you want a DJ for a funky and groovy party, event, or festival, be sure you will have chosen the right one. Quincy Jointz is resident-DJ of the Disco Bizarre-nights at the world-famous Kit Kat Club in Berlin as also at Waldsee in his hometown Freiburg.
But that´s not all: Quincy Jointz plays his DJ-gigs all over Europe (Madrid, Paris, Vienna, Milano, Athen, Bratislava, Budapest, Prague, Thessaloniki and of course many cities in Germany.
His DJ sets are a guarantee for happy and satisfied dancers.
Choose which DJ-set you want:
§ Disco Bizarre Style = sexy Disco and House Music
§ Lime Sorbet-Style = a wild mixture of Funk, Mash-ups, Hip Hop, Drum ́n ́Bass, Disco, House and Reggae
§ Club-gigs: 2 to 6 hours
§ Festival-gigs: 1-2 hours
Vita
The Freiburg-based Disc-Jockey and producer started in 1990 with his first DJ residency. He was much influenced by Hip Hop oft the Golden Era like De La Soul and the sample-madness of Coldcut and the Acid House scene.
From 2006 Quincy Jointz became one of Germany´s leading producers of NuFunk music. He is running different projects like Quincy Jointz, Jack & Jointz, Geriba, and Kwinsi & Delayght Jr.
His music is published by labels from the USA, Germany, UK, Greece… and is supported by top-notch artists like Club de Belugas, Fort Knox Five, Mo`Horizons, Ursula 1000, Andy Smith (Portishead-DJ).
His "Lime Sorbet compilation" is very popular. In April 2017 the 6th edition was released and made it also to no. 1 at many online stores for DJs worldwide – like all other editions before.
Bio
§ Born 1974
§ First DJ-mix at the age of 12
§ First residency with 15 years at the local youth club
§ Residencies around Freiburg from 1994 to now
§ Radio-Shows from 2002-2010 (Lime Sorbet Radio-Show, Radio42, Monofunk.net, Canora.es…)
§ From 2006 about 100 music releases and remixes as Quincy Jointz , Geriba, Jack & Jointz and Kwinsi & Delayght Jr.
§ Cooperations with Ashley Slater (Freak Power), Red Star Lion (Dub Pistols), Scarlett Quinn (Kitten & the hip), Rory Hoy…
§ DJ-gigs in Germany, Greece, France, Spain, Hungary, Austria, Switzerland, Czech Republic…
Selected DJ-gigs
§ Eightheenth Street Lounge, Washington USA
§ Disco Bizarre, Kit Kat Club Berlin (Residency)
§ Mothership Connection @ Klunkerkranich Berlin
§ L´Alimentation Génerale, Paris
§ Sala Juglar, Madrid
§ NuSpirit Club, Bratislava
§ Cafe Leopold, Vienna
§ Boogaclub, Granada
§ Afrodisia, Granada
§ Moe Club, Madrid
§ Waldsee, Freiburg (Residency)
§ Chapeau Rouge, Praque
§ Wolve´s Night @ Vyrsodepseio, Chania, Crete
§ Barbarabar, Hamburg
§ Sommersalon, Hamburg
§ Cox 18, Milano
§ Bar 59, Lucerne
§ Instant Club, Budapest
§ Cha Cha, Budapest
§ West Balkan, Budapest
§ Sud Club, Basel
§ Funk Fusion, Frankfurt
§ Groove Station, Dresden
§ ZMF, Freiburg
§ Arche, Waldkirch (Residency)
§ Inside, Emmendingen (Residency)
§ Point, Emmendingen (Residency)
§ Subway, Freiburg (Residency)
§ Stadtteildisco Rieselfeld, Freiburg (Residency)
Web:
FACEBOOK www.facebook.com/Quincy.Jointz.Music
SOUNDCLOUD http://soundcloud.com/quincywww.mixcloud.com/Quincy_Jointz