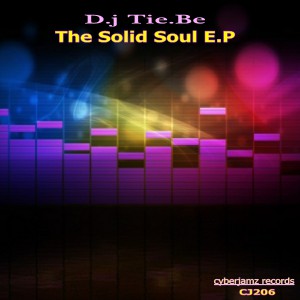 Hole the f**k Up!! .. can't forget my boy Tie Be !
The Solid Soul E.P (Vol #1) – Dj Tie Be – Cyberjamz
Way deep down under there is a producer that wanted to be heard……… but nobody wanted to give lend him ear.. until he came to us at the headquarterz. Well,all I can say is that we are very proud to welcome Dj Tie Be to our labels and his debut package is what the Deep Afro and Soulful House Gods have been asking for… a dope package featuring original pieces which are fresh in both sound and elements.
We will start with his opening cut "A Chance 2 Gruuv" , a wonderful afro ride down to the dance floor with deep bass-line and drums.. this is super nice . next up we have the hot "Babba Speaks 2" , a serious funky afro piece with all the right elements and breakdowns to chalk it up as a fave. This next piece took me by surprise in that the instruments used took me right to the motherland Africa. "Mapambano-Struggle" is an obscure but effective piece if played at the proper time. I can see a circle forming in the middle of the dance floor for this gem. The last piece offered in this already jam packed E.P is "ZuZu". a straight up stripped-down afro jam with a hot ass intro filled with drums and flows into guitars and afro-chants that will leave your dancers mesmerized. A very good cut indeed.
coming soon to Cyberjamz Records 2017.