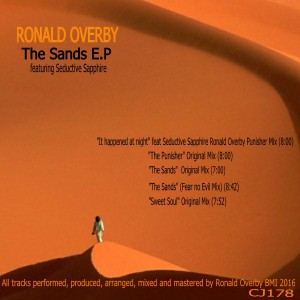 HOT E.P Cyberjamz Records Alert !!
The Sands E.P – Ronald Overby feat. Seductive Sapphire
Here we have the dope follow-up to Activate Jupiter Series and this time DjRonnieRon takes it to the next level featuring a bangin remix of Seductive Sapphires "It Happened at Night". Also on this spectacular package is "The Punisher" ,a slamming piece that reminds me of the late Chicago House sound of the 80's. Next we have the hit tile "The Sands" which is awesome in it's own right and Ronald O gets it in on the spoken-word tip."Sweet Soul" is a combination of deep and soulful elements which goes nicely with any mix.
I'm sure deejays and late night dancers will enjoy this one !
coming in Nov 2016.
The Sands E.P – Ronald Overby feat Seductive Sapphire
Tracklist:

It Happened at Night – Seductive Sapphire (Ronald Overby Punisher Remix) (8:00)
2. The Punisher (Original Mix) (8:00)
3. The Sands (Original Mix) (7:44)
4. The Sands (Fear no evil Mix) (8:46)
5. Sweet Soul (Original Mix) (7:52)
All tracks produced, mixed, arranged and mastered by Ronald Overby BMI 2016