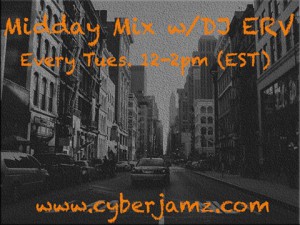 Check in every Tuesday from 1 – 3pm est with Dj ERV pres: The Rhythm Room.
This show features everything from deep house,soulful,afro,classic house and more !
Bio & Info
Hailing from Manhattan's Lower east side, DJ ERV started his DJ / Producer career at the age of 15. Influenced early on by Tony Humphries, Erv listened faithfully on a weekly basis to Tony's radio shows on Kiss FM. Erv considered Tony his mentor and his style represents what he learned from him. Early on in Erv's career he worked at NYC Dance Tracks & played for a lot of neighborhood block parties, private parties etc. For the next few years soon after DJ Erv played at a number of venues: Nells, MK's, Sticky Mike's, Bond Street Café, The World, Studio Studio, Club Shelter, Funkbox, Pacha just to name a few. Today DJ ERV is still going strong in NYC, Miami, DC & New Orleans.
Contact and booking:
https://www.facebook.com/djerv212