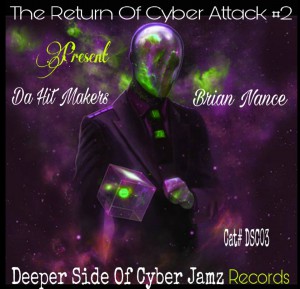 Hot E.P Alert:
The Return of the CyberAttack E.P – Da Hit Makers with Special added remix by Brian Nance – Deeper Side of Cyberjamz Records.
Man oh man…we are cooking for the summer ! Those that purchased the famous "Pianos & Flutes" by Djtsmooth Farrar out now at http://bit.ly/29tOwSt .
This is Pianos & Flutes on steroids and it's actually a rework of that banging piece. Only difference is that the musical elements are simply out of this world and it's a huge 14 min extended dance off joint that all dancers will absolutely love ! In addition also featured in this package is a freeking dope remix ,completely different from the original and is for sure a jam.
Da Hit Makers (Djtsmooth Farrar & David Barber) and Brian Nance rock this E.P.
coming soon to Deeper Side of Cyberjamz Records May 2017.