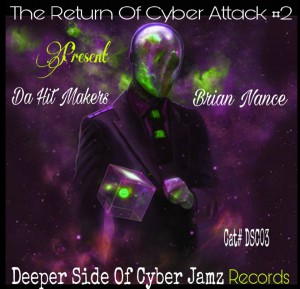 Cat#DSC03
Release:The Return of the Cyber Attack(Remixes)
Artist: Da Hit Makers & Brian Nance
What do we have here? a revisit of the slammin Hit Makers joint Pianos & Flutes but this time with a deeper beat.. more organs and dancefloor dancing time. Added to this special package is a slammin deep and dark remix by Brian Nance,taking things to the next level of dance.
**This piece was played by Tony Humphries at this years WMC 2017 along side Louie Vega.
produced by Da Hit Makers – DjTsmooth & David Barber
additional production Brian Nance
cover – DjTsmooth
bookings and producer info contact:
sammyrock@mail.com