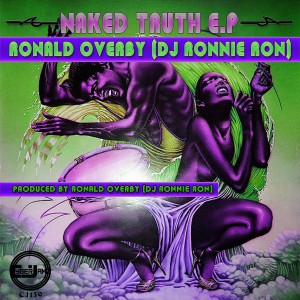 Cat # CJ150
The Naked Truth E.P
Cyberjamz Records
Time to get naked and deep with Ronald Overby (RonnieRon) out now !
http://www.traxsource.com/title/362058/the-naked-truth-e-p
Dance floor cut alert !
Ronald Overby (Ronnie Ron) of the Nubang Clan has been in hiatus for quite sometime and now he emerges out the shadows and delivers this exceptional deep soulful afro E.P that will for sure make you dance! This E.P is super bad !
Tracklist:
1)The Elements (7:14)
2)Panther (6:39)
3)Peace 2 Shalom (7:00)
4)The Naked Truth – Vocal Mix (6:34)
5)The Nakedstrumental – (6:34)
All tracks and vocals performed, produced and mixed by Ronald Overby (Ronnie Ron)
cover art by JorgeG Graphix.
Another Coyote Entertainment Joint 2014.