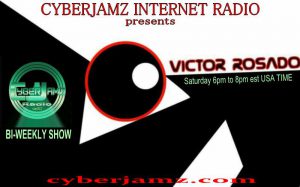 Cyberjamz Internet Radio welcome The Legendary Victor Rosado to your hot Saturday line-up from 6pm-8pm est USA TIME (bi-weekly).
Join us as we celebrate our 17th year streaming music for the people and it feels as if it was yesterday. Let us welcome the Legendary Victor Rosado to our hot Saturday line-up starting this coming Saturday from 6 pm – 8 pm est USA TIME, a bi-weekly show.
Let the classics and good music beat-downs begin!
Bio & Info
Victor Rosado has been setting dance floors on fire with his unique style of emotionally controlling a crowd with his soulful musical narratives,which transmits a spiritually uplifting groove that propelled him to the forefront of the New York City club scene in the early '80s.
But, it's his creative prowess, unyielding dedication to honing his craft, and ceaseless commitment to realizing the full potential that has enabled him to adapt to the constant transformations within the music industry during the past four decades,
Victor's perpetual passion for music and extraordinary interpretation of rhythm and harmony are the primary forces behind his longevity within the global dance music community and is what makes him a force to be reckoned with.
Victor is an epicure; a person who truly loves the food at the highest levels. His ardent delight with food began as a child cooking in the kitchen with his mother preparing Puerto Rican delicacies for holiday guests. His innate aesthetic curiosity and insatiable desire to attain knowledge led him to the world-renowned Art Institute Of NYC, where he studied culinary cuisine and the necessary skills to deliver popular traditional international flavors and world-class techniques that food connoisseurs want and expect from award-winning professional kitchens.
Victor is versed in every aspect of the culinary arts including meal planning, food preparation, organizing and overseeing dining set up, presentation, and service. Victor's culinary training as a saucier, baking, pastry, and executive chef has enabled him to surprise, delight, and even inspire passionate foodies.
Victor Rosado