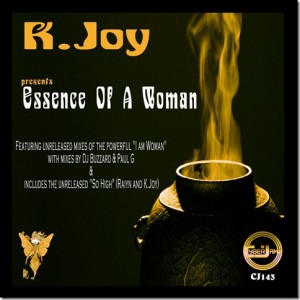 Cat#CJ143
Title: Essence of a Woman
Artist: K.Joy featuring Raiyn – Mixes by Chazz, Max Martinez,PaulG & Dj Buzzard
abel:Cyberjamz Records
Target Release Date: Mid – November 2014.
The Legendary K.Joy delivers this lovely E.P entitled "Essence of a Woman" featuring the powerful "I am Woman" with remixes by PaulG & Dj Buzzard.Also included in this fantastic package are the unreleased gems "So High" feat K.Joy and her wonderful sister Raiyn and the dance floor hit "So Alive" (K.Joy feat Max Martinez).
This is an exceptional package release for Cyberjamz Records & Pure Innergy and we would like to thank everyone in advance for the love and support.
Peace, purity, power, & prosperity!!
K. Joy "Essence of a woman" (CyberJamz Records CD Promo)
A good five year ago (July 2009 to be precise), CyberJamz Records released "I am woman", a charity remix project by K. Joy featuring Collective Men & Women United (all proceeds go towards the Women's Cancer Network/WCN). Now CyberJamz Records bless us with "Essence of a woman" which features previously unreleased mixes of "I am woman" by DJ Buzzard and Paul G both taking this wonderful song which features powerful lyrics masterly performed by the involved artists to a whole new level on their equally jaw-dropping renditions. Also included are "So alive" a captivating deeply thumpin' affair where K.Joy's inimitable vocals are accompanied by lush keys, and "So high" an energetic yet melodious and soulful vocal track perfect for prime-time action
Review by Mike Fossati of Spirit of House
All Lyrics by K.Joy
produced by Kimberly Salter (K.Joy)
Additional release info:
*"So High" performed by Raiyn & K.Joy
*"So Alive" performed by K.Joy and produced by Max Martinez
"I am Woman" is remixed by Paul G and Dj Buzzard for Coyote Entertainment.
copyright Nia Adero (BMI)
All rights reserved
Cover artwork by:
JoreG Graphix – jorgegee@gmail.com
K.Joy Artist hisotry and accomplishments:
http://www.sonicbids.com/band/kjoymusic/
Facebook:
https://www.facebook.com/k.joysalter
Producer booking and info contact:
sammyrock@mail.com
Another Coyote Entertainment Joint 2014.