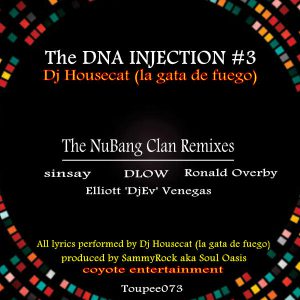 Cat# Toupee73
Artist: DjHousecat(la gata de fuego)
Release: The DNA Injection (NuBang Clan Remixes)
Here we go with our 3rd installment of this wonderful dance floor cut The DNA Injection featuring our very own DjHousecat(la gata de fuego). Hot remix package by Greg Gray (sensei) , Derrick "DLOW" Singfield, Ronald Overby (Dj Ronnie Ron) and Elliott (DJEV) Venegas. You won't be disappointed with this set of remixes and just like the Original Mixes and Part 2 (Genetix Code Remixes) ,these are right up there each offering their own interpretation.

Pick up Part one out now feat mixes by CalvinSol ,Tayo Wink ,Dj WM J & Dj Punch – https://bit.ly/2KUsaIK
The DNA Injection (Part 2) The Genetix Code Remixes by Sal Negro , CalvinSol , Dj Punch & Dj EV (Elliott Venegas) – https://bit.ly/2EYyCAo
**Exclusive Remix The DNA Injection
Klassik Chicago K' Alexi Shelby & Tony Loveless – https://bit.ly/2PScPvq
*Exclusive Remix by Ronald Overby (Dj Ronnie Ron) featured on his 5am Fiya E.P
The DNA Injection – RO Afrocentric Mix – https://bit.ly/2GWsG8d