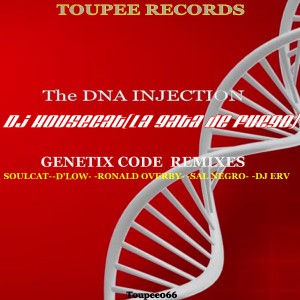 Jeez…… Part One even out yet and already we got ourself a bangin Part Two E.P !!
The DNA Injection – DjHousecat (la gata de fuego) (The Genetix Code Remixes) by Sal Negro,SoulCat,DLOW ,Dj ERV & Ronald Overby .
My guys are on this one featuring a banging remix by Sal Negro who took this joint to the next level,while Derrick DLow Singfield is simply one of those producers to keep your eye out on in the next year delivers an awesome moody interpretaion. Erving Batista – Dj ERV is on-point with his remix while Ronald Overby goes off the deep end with a beautiful afro jam interpretation and really took us by surprise.Last but not least yours truly SammyRock & DjHousecat(la gata de fuego) close out this wonderful E.P with a deep remixof our own.So come get your musicial DNA Injection and dance the night away !
All and all part one is bangin and these part 2 remixes are simply lovely. Also keep your ear to the ground for the "Sensei Edits" NuBang Versions part 3 also coming summer 2018.
produced by SammyRock aka Soul Oasis for Coyote Entertainment.
co-produced vocals written,performed by Catherine Harris Rowell
Another SoulCat Joint – Toupee Records 2018.