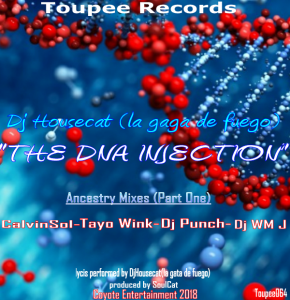 The DNA Injection – Dj Housecat(la gata de fuego)(Ancestry Remixes) (Part One) – Toupee Records
**This release was done for the apple of my eye and partner Dj Housecat(la gata de fuego).These mixes were done as a surprise for her and this is the first time we are letting the CAT out the bag. It all started out with a piece she sent to me which was inspired by an event that she and Dj Dee Clark were a part of in Washington DC. All the producers involved fell in love with her voice and how she dropped the lyrics for this cut and all we had to was add music to it.Born out of these exceptional mixes came The DNA Injection.. a lovely little tale about how our DNA genetic code is written for us to dance.
Ok What can I say about these Ancestral Mixes (Part One)? mixe)? let us start with our new and upcoming producer Calvin Sol who drops a serious deep afro tool mix and a dope broken beat mix which are both simply wonderful.Following these opening mixes,we have my brother from another mother New Jersey's Finest Dj Punch who made sure his mix was on which is an 80's flava rendition of "Love Dancin". As we continue with this beautiful package we get a jacking remix by William Curtis ( Dj WM J ) . Tayo Wink (B Soul Slayer of the Soul Slayerz) closes out this marveloous package and comes correct with his signature Brujeria Soul afro version which as you can imagine.. is pure fiya !
All the mixes submitted was so dope that I have to split them into both parts 2 featuring mixes by Sal Negro , Dj ERV and Calvin Sol. We also already have The DNA Injection (Genetic Code Mixes) featuring The NuBang Clan Family of Greg Gray (sensei) , Derrick DLow Singfield , Ronald Overby and SoulCat coming soon !
produced by SammyRock aka Soul Oasis.
co-produced by The Cyberjamz All-Stars.
All lyrics performed by Catherine Harris Rowell – DjHousecat(la gata de fuego)
licencing and info contact:
sammyrock@mail.com
contacthousecat@gmail.com
Another Coyote Entertainment & La Gata De Fuego Joint 2018.