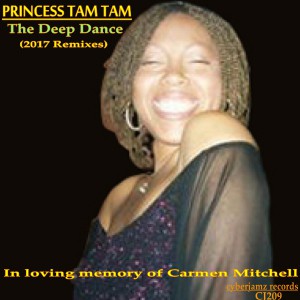 OMG… I have goosebumps and tears rolling down my eyes…
The Deep Dance – Princess Tam Tam (R.I.P) 2017 Remixes.
Why? because I miss Carmen Mitchell (Princess Tam Tam) and these new 2017 Remixes by Erving Batista (Dj ERV) , Soul Slayerz (Tayo Wink & Hakeem Syrbram) .Glenn Gregory ,Derrick DLow Singfield , Hugh Harrell IV Dj Buzzard & Dj Tie Be just killed it.. I mean ALL the mixes are dope !
I would like to thank my All-Star team of producers for representing proper for Tam Tam (I'm sure where she at…she is smiling and dancin and we shall dance again) !!
coming soon Cyberjamz Records 2017.