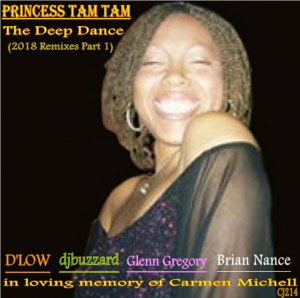 OMG… I have goosebumps and tears rolling down my eyes… R.I.P Carmen Mitchell – Princess Tam Tam
HOT.. and I mean HOT Release Alert.!!
The Deep Dance – Carmen Mitchell aka Princess Tam Tam (R.I.P) (2018 Remixes) Part 1 feat Glenn Gregory , D'Low,djbuzzard & Brian Nance
These remixes are dope!!!.All the mixes for this package are so good that I had to chop them up into two parts.This package offers a fantastic soulful house remix by Glenn Gregory which took this piece to another level and is a fave and my Nubang Clan brother Derrick DLow Singfield Remix is absolutley a gem and made me emotional after hearing it and thinking of Carmen.D;Low delivered a great Afro-House Remix while Dj Buzzard kills it with his deep Afro-Tech Mix and is also a favorite off this package. Brian Nance goes deep down under without loosing it's Afro roots and musical elements which he mixed in with a touch of tech which is simply amazing.This entire team of producers did their thing and represented Carmen Mitchell aka Princess Tam Tam to the fullest. RESPECT !
I would like to thank my All-Star team of producers for representing proper for Tam Tam (I'm sure wherever she is at…my sister is smiling and dancing.
We all shall one day dance again)
coming in middle of Feb 2018.
Carmen was our very first spoken-word artist on our label and the first Cyberjamz Records CJ001 is The Deep Dance.
Pick it up at http://bit.ly/2mx54xb and Dj Romain's Broken Beat Mix http://bit.ly/2r5SQRt
and The Best of Cyberjamz (Unreleased Music Mixes)
The Deep Dance (Soul Oasis feat.Princess Tam Tam/Marco Marquez & Jaysun Remix) avail http://bit.ly/2DsFrFL
The GVA (The Groove Victim Unreleased Mixes) of The Deep Dance http://bit.ly/2D1nQE1
produced by The Cyberjamz All-Stars
co-produced by SammyRock & Soulcat
Another Coyote Entertainment Joint 2018
licencing and bookings:
Facebook:
https://www.facebook.com/glenn.gregory.988
**pick up all of Glenn Gregory's releases out now – http://bit.ly/2mAlAx8
Another Coyote Entertainment Joint 2018.
Cyberjamz Records on FB.
https://www.facebook.com/groups/cyberjamzrecords/
Cyberjamz Music Group Page:
https://www.facebook.com/groups/cyberjamz/
Twitter:
https://twitter.com/_cyberJAMZ
Follow us on instagram
https://www.instagram.com/cyberjamz/
#housemusic #dance, #dancemusic, #realhousemusic, #housemusicallnightlong, #internetradio, #housedj, #femaledj, #cyberjamz, #afrohouse, #latinhouse, #undergroundhouse, #housemusiclovers #househead, #housenation, #remixer #musiclovers #deephousemusic #techhouse #chicagohousemusic #soulfulhouse #gospelhouse #classichousemusic, #disco, #houseparty, #downtempo, #musicislife, #dj, #djlife, #djstyle, #neosoul, #oldschoolhiphop #edits, #electronicdancemusic