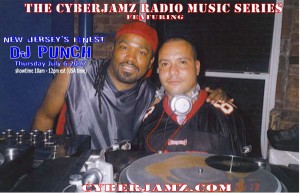 The Cyberjamz Radio Summer Slam Music Series has taken a serious turn next Thump-Day Thursday as we are about to unleash one of our most popular producers on our labels.. New Jersey's Finest & Zanzibar own Dj PUNCH !!
This set is going to be banana's as Dj Punch will be featuring upcoming Baby Powder Music Remixes and current pieces out on both Cyberjamz and Toupee Records respectively.If you haven't picked up any of his past or current releases please visit http://bit.ly/2urdCrV
Check in Thursday July 6,2017 from 10am – 12pm est at https://cyberjamz.com
** Dj Punch will also be blessing our House on the Waterfront Weekender Sunday Aug 06,2017 at Bladensburg Park in Maryland this year and it's going to be HOT!
Day #3 – The Finale at Bladensburg Park , MD
The Official 2nd Annual Cyberjamz Radio™, Catherine Harris Rowell of Toupee Records/ Real Women House™ & Rescue Poetix™ Management pres: House on the Waterfront Weekender™ Friday Aug 04 to Sunday Aug 06 ,2017 in Bladensburg MD.
Line-Up.
Jose Saint Sanchez of Soulful Cypher
Neal Conway of Urban Retro Music Group
The House of Soul (SammyRock & DjHousecat(la gata de fuego)
Dj Punch of Baby Powder Music
**Live P.A Rescue Poetix™ and other performers TBA .
We hope you guys can joint us for 3 days of musical bliss.
Official Facebook Event Page.
https://www.facebook.com/hotwmd/
Follow us today !
http://www.instagram.com/hotwmd/
Hashtaggit – #hotwmd
** If anyone would like to support our 2nd Annual House on the Waterfront Weekender in Bladensburg MD ,please purchase one of our shirts as all sales and proceeds go towards the cost of our Weekender Aug 04,-Aug 06,2017..
Tee-Shirt Link – http://bit.ly/2gkgajQ
About event – http://bit.ly/2jpJR5l
Become an official HOTWD Sponsor contact:
contacthousecat@gmail.com
sammyrock@mail.com