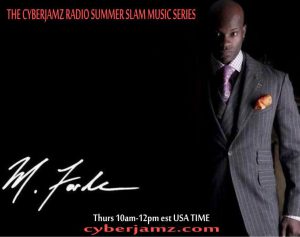 The Cyberjamz Radio Summer Slam Music Series feat. Dj M. Forde' was really nice! Michael Forde laid down some very nice remixes and reworks he produced in this set alongside many other wonderful pieces. Give this guy a try,ya might like it.
stream or download FordeCAST here: https://bit.ly/2ZFFL19
bio
Coming straight out of Bedstuy world traveler, Afro- house, house and dance classics Dj. M. Forde was mentored by the legendary NY DJ's Little Louie Vega of Masters at Work, Cut Creator and Carlos Sanchez. He started out dancing and choreographing for many artist and dance theaters in the underground dance seen in NY in the 90's where he met Erik Morello (I like to move it move it) who introduced him to Louie Vega and it was off from there. After awhile M. Forde made his debut as a guest dj at the Limelight.
South Africa is his second home where he plays at Shaguma in Johannesburg. He's also made a few mix tapes with Chicago's own legendary dj Mark Grant on the Southside Of Chicago. He's worked with many party event planners in NY like Colin Cowie and David Starks mcing their events collaborating with other celebrity dj's. He's sponsored by Italian sound company FBT, his sound system of choice which is featured at The Communion dance parties in Brooklyn. He has a residency at Lola's in Martha's Vineyard playing funk and classics for the "Fried Funk and Waffles" dance party.
Dj M. Forde's music edits are popular among the South African house heads especially Stimela by Hugh Masekela and Stevie Wonder's "These Three Words". Mixes of John Legend and Whitney Houston have been featured on WBLS on the Charles Mixin Dixin power mix show.
He's been featured on ESPN and rated Esquires best dressed man in America, L'uomo Vogue magazine and the Today Show. What more do you want ? This DJ is about to take it to the next level with the devastating Sounds of M. Forde.
M. Forde