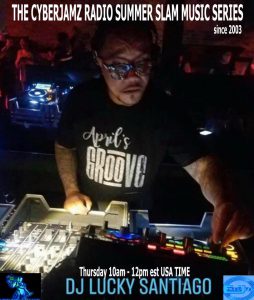 CYBER-SLAM ALERT!!
The Cyberjamz Radio Summer Slam Music Series is going to be SLAMMIN this coming Thump-Day Thursday feat deejay/producer of Dj Lucky Santiago Music, Cyberjamz – Toupee & deeperSIDE of Cyberjamz Records.
Podcast now up for stream or download at https://bit.ly/3kTHk3Q
DJ Lucky Santiago is a DJ and Producer from Newark NJ. Introduced to the craft of playing music in 1979 and he also takes his love of music as a gift to be shared with the world. So who is Lucky Santiago? Come find out this Thursday at Cyberjamz Radio and check out his catalog of mixes and remixes that will for sure blow your mind!
purchase at https://www.djluckysantiago.com/ or https://bit.ly/3agQJxg
Available for Event Booking and Track Remixing
Email: DJLuckySantiago119@gmail.com
In addition, he has also been busy teaching his talented wife April Williams aka April Shabazz the World of production of which she herself is featured on our labels.