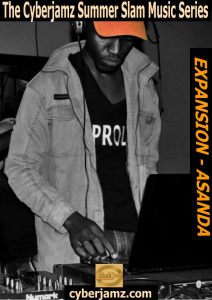 The Cyberjamz Radio Summer Slam Music Series jumps off tomorrow Thursday from 10am – 12pm est USA time feat Africa's & Exprolu crew own Expansion – Asanda Phendu.This is gonna be great show jammers as we, hope you lovers of music can lend an ear to his exceptional music programmer.
Podcast now up! Stream or download here:
https://bit.ly/3dgcWMj
Bio & info.
Expansion is South African Afro House dj who is widely recognized for his good set of music he plays. He is a member of dj group called Exprolu. He has also been featured to numerous event, and even hosted some on his own. Among the events that he ever hosted, is an annual 3 days and 3 nights event which has been a success over the years.

Please kindly note that the 2 hours mix fail to upload due to size requirements of the email, alternatively route into the below link for the mix:
https://youtu.be/iV-PpdRbf8M
Podcast coming soon!