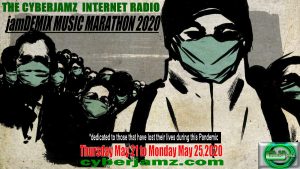 Special Event Alert: The Cyberjamz Radio jamDEMIX Music Marathon – Thursday, May 21 – Monday, May 25,2020
I know we are living in uncertain times right now and sometimes things seem a bit hard and out of reach for many with this pandemic going on. In the past few months, we have lost quite a few key people in our lives and it happened at such an exponential rate that some of us may feel as though we didn't give those that have lost their lives to this virus the proper acknowledgment. Therefore we at Cyberjamz Internet Radio would like to put together a good music marathon and dedication in remembrance of those we knew and didn't know that have departed from this earth.

Save the Dates:
We hope you guys can join us for our jamDEMIX Music Marathon Thursday, May 21 through Monday, May 25,2020. Shows, Cyber music programmers, and the full line-up will be posted in the coming week. If you ever have checked out our past music marathons, then you know how we throw down. This marathon will be like any other we've ever had because of the significance of it all and emotions will be running on high as we are playing to hopefully make this virus go away and soon through music vibrations. This music marathon will be one for the history books.
C.E.O Cyberjamz Radio/Records SammyRock aka Soul Oasis. http://cyberjamz.com
V.P of Operations – Catherine Harris Rowell