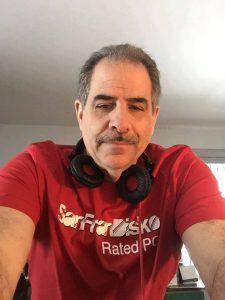 The Cyberjamz Radio Fall Slam Music Series is proud to featuring Joe Damante, Thursday Sept 30,2020 from 10am – 12pm est USA time
If time permits check-in cause this deejay be rocking them old school classic jams and more!
Joe Damante:
I got very much involved in the disco era dating back to the early part of 1973. I first started doing mobile gigs under the business of c and d productions with my partner Rob Coletti. In 1975 we went our separate ways and I formed my own company JD productions doing all types of venues. My first year I worked with a dance studio on a long island called hustle explosion doing shows for them and studio work as well. I also did a huge event in New York City for all the offices in the tri-state area of dale dance studios. This event was one of my favorites for the simple reason there was over 1200 in attendance and the dance floor was always packed.
When a DJ sees this he knows he is doing his job well. In the summer months, I did some work on world yachts based in N.Y.C. those boat ride parties were always great I must say.
Growing up I loved music all types I went to many shows at the Fillmore east and also at Madison sq Garden. Some of my favorite groups back then were the Beatles, Stones, Chambers Brothers just to name a few. When I exposed myself to the club scene there was no turning back.
I loved the music. Back in the day, there were so many clubs some of my clubs that I went to were as follows Bonds, Rue Che Blanc, Enchanted Gardens, Ripples on the water, Dr feel funnies, Productions, Pastels, 2001 Odyssey, Revelations, Cathedrals, Inner Motions and many more.
It was at inner motions where I met my good friend Mark Zimmer he was my mentor any time I went to a club where the mark was playing it was always a great time and the music was the best. Mark got me started in the business and as I got more involved I became a member of 99 Prince St Record Pool then I.D.R.C. first at 141 Attorney St right out of their apt and then they moved to Broadway which was huge.
As a member of the record pools, I met so many great and talented DJ's and I also was introduced to many promotional people in the business. Going into the city every week to all the record companies and the record pool was like Xmas I came home with tons of records on a weekly basis. Some other means of obtaining my records were from many more record companies big and small all around the United States and received many imports from Europe and Canada.
In the late seventies, I started to report to WBLS 107.5 in New York City and to dance music report magazine with my weekly playlists that would appear in DMR Magazine.
Here is a list of some of the clubs I worked at:
Doubles
Top Hat
Pappilon's in Long Island
Your Sister's
Olivers
Pips in queens
Gatsboys
Buddies 2
Roller Palace in Brooklyn
Catch me on Crib Radio http://cribradio.com