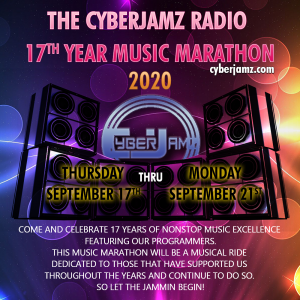 Music Marathon Alert! Can we get MO.. MORE.. MOOR.. COWBELL?? The Cyberjamz Radio 17th year Anniversary Music Marathon.
As most of you already know,we are in that month that we celebrate another year of music excellence. Every year we also host our anniversary with a special music marathon featuring our music programmers and a few of our past deejay's,of which makes this event even more the greater. The line-up we offer are shows that you normally don't get a chance to hear during the week and so we scramble the shows in order to get a few of them heard on a different day or time slot. This marathon will be our 17th one and it all goes down Thursday Sept 17th thru Monday Sept 21,2020. We truly hope you guys can check-in for a moment and give us a shout-out while our music programmers lay their A games out for those that love music as much as we do. All shows air on eastern standard time Also a few shows will be hosted on our Twitch CyberjamzTV at https://www.twitch.tv/cyberjamz_tv and also at cyberjamz.com
Line-up,times and schedule and shows are subject to change.
The Cyberjamz Radio 17 year Anniversary Music Marathon. Sept 17 thru Sept 21,2020
Thursday Sept 17 (schedule)
10am -12 noon Cyberjamz Radio Summer Slam Music Series guest Deejay TBA
12pm – 3pm Tim Wise (Dj TWISE) Ubiquity Soul Ubiquity Soul.Show
3- 5pm David Lawrence Jones pres Deep Waterzz
5-7pm – Eric Eman Clark Run Bklyn Radio Show
7pm – 9pm – Selek Kae pres Lush Vybes
9pm – 11pm – Ab Seven , Soul Stoned House
Friday Sept 18,2020
8am – 10am – LVS Cecilia Birdex
10am – 12pm est Cordell Johnson – 63rd and Soul
12 – 2pm – OPEN
2-4pm – William Alvarado, BullsEye Sessions
4pm -6pm Greg Gray Nu Bang Sessions
6-8pm Strong Enough Entertainment pres. Transmissions
8pm – 10pm David Shell – The Ride
10pm 12pm – Nelson Maldonado (NELONE)
12am – 2pm OPEN (for the overseas folks)
Saturday Sept 19,2020
8am – 10am Dj RICH – Salsa vs. House
10am – 12pm – Tommy Wickens Blue Light Sessions
12 -2pm – Wil Milton, Milton Music Cafe
2-4pm – Big Logan , Jersey Soul Experience
4pm-6pm – George Jackson, The G Spot
6-8pm – Tony Mack and Demann Parker, Sons of Soul
8pm – 10pm Dj FM Baby Powder Sessions
10pm-12am – Musa Stretch – The Saturday Night Stretch
12am-3am – BugnHard Alfredo Acosta Borbon – Roadtrip Sessions
Sunday Sept 20,2020
7am – 10am est Jorge G – The Curious Jorge Show.
10am – 12pm – OPEN.
12-2pm – Dj Nubian, The Nubian Experience
2-4pm Harry Glenn, The Underground Fiya Sessions
4-6pm Jacqueline Jed'eye Cohen Third Eye PoeticMoves
6pm – 8pm Todd JamKam McGill The Sunday Wind Down
8pm – 10pm Greg Stewart – (Dj Aakmael)Unxpozd Entertainment
10pm-12am – OPEN
Monday Sept 21,2020
9am – 2pm est THE FINALE – The SoulCat Show (SammyRock & DjHousecat(la gata de Fuego )
**A HUGE thank you to Jorge Garcia (Jorge G) for the banner design. If you need a banner done please email jorgegee@gmail.com
Thanks TEAM. letz go.
SammyRock and Catherine Harris Rowell
Mod Sheila Johnson
http://cyberjamz.com