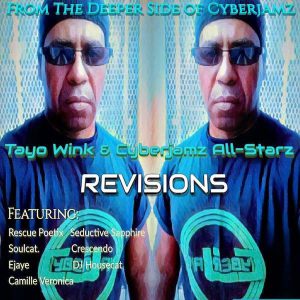 Hot Release Alert: The Revisions of Tayo Wink (Zona Soul) (Various Cyberjamz Recods All-Stars)
Label: deeperSIDE of Cyberjamz
Target Release Date: October 5,2019
Zona Soul aka Tayo Wink delivers an exceptional re-visions featuring a few of our labels spoken-word artist including RescuePoetix ™ , Camille Veronica, DjHousecat(la gata de fuego), Soul-CAT feat Clarke Clark , Seductive Sapphire,Ejaye ,Crescendo. Each and every remix of these classic Cyberjamz Records All-Stars are deep and soulful with a touch of Afro in em. This EP is for the die-hard spoken-word artist and those that enjoy a good piece in their mix.
All tracks produced mixed and re-visioned by Zona Soul – Tayo Wink
*copyright and publishing belong to each artist represented in this music compilation
All rights reserved
Raspberry Kisses is written and performed by RescuePoetix™
Susan Justiniano BMI 2017
The DNA Injection is written and performed by Catherine Harris Rowell (DjHousecat(la gata de fuego) for Real Women House™
Just Deep is written and performed by Sheila Johnson Seductive Sapphire BMI
Loverwants is written and performed by Camille Veronica (BMI)
Darkened Temptations and House 101 is written and performed by Ejaye (ASCAP)
Ode To Muzik is written and performed by Suprena Millet (Crescendo) Blak Cherri Productions
The Bar Talk produced by SOUL-CAT lyrics written and performed by Clarke Clark (ASCAP)