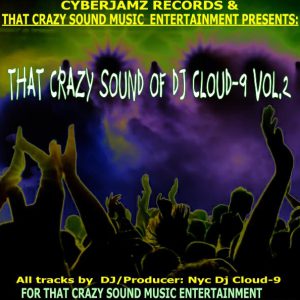 JAM ALERT !!
Get ready to JAM OUT with me and NYC Dj Cloud 9) – Anthony McCloud. feat this slamming EP entitled "That Crazy Sound of NYC Dj Cloud 9 Vol 2 – Cyberjamz Recs.
out now https://bit.ly/2W1rMlv
OMGoodness.. This producer took his production work to the next level with this kiss ass 9 track EP to match his name. NYC Dj CLoud 9. He delivers another full dance floor EP dedicated to all dancers and deejay's alike.. There are nine slamming cuts you can choose from with each jam better than the next. So no matter which one you choose ,you will get a great response as it's been dance floor tested and dancer approved !
THAT CRAZY SOUND OF DJ CLOUD-9 VOL #2 EP. TRACK LIST
1. SWEETER Jackin Afro Vocal Jam !!
*2. I NEED ME A C-9 PARTY ( A FAVE JACKIN Dance floor JAM)!! That Organ THOUGH….!!
*3. SHOW YOU HOW TO MOVE – DEEP JACKIN HOUSE JOINT! A fave
*4. FUCK THAT 9 BEAT UP – JACKIN ASS BEAT DOWN !
5. MORE, MORE, MORE – Slammin Jackin Funky Music !
**** 6. MIDNIGHT MADNESS FIYAH MIX – THIS IS IT RIGHT HERE. NUFF SAID ! My Fave off this package .
****7. Tribute To My Brother – A FAVE feat. Ozkar Fuller on production along-side NYC Dj CLoud 9
8. SATISFY THE NEED IN ME – Jackin House Jam
9. DONTCHU WANT IT – Jackin Jam !
ALL SONGS PRODUCED BY: DJ CLOUD-9 FOR THAT CRAZY SOUND MUSIC ENT. 2019.