Hot Releae Alert: That Crazy Sound of Dj Cloud 9 E.P Vol#1 – NYC Dj Cloud 9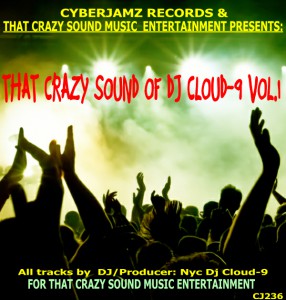 – coming soon to Cyberjamz Records.
Here we have a collection of killer dance floor jams to furfill any dancers dream. Music cuts ranging from afro, soulful, and tech house all rolled up into one magnificent package. I'm a happy camper today after hearing these feel good gems by New York City's own Dj Cloud 9.
PRODUCED BY NYC DJ CLOUD-9 FOR THAT CRAZY SOUND MUSIC ENTERTAINMENT
CYBERJAMZ RECORDS 2018.