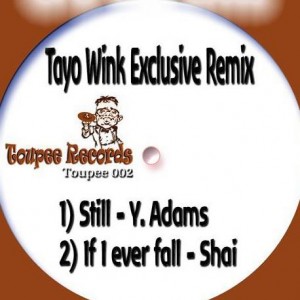 Tayo Wink comes correct with this set of Xclussive Remixes out on Toupe and now on Cyberjamz Records.
Pick this up  out at
http://www.traxsource.com/index.php?act=show&fc=tpage&cr=titles&cv=182230
http://www.junodownload.com/products/x-klussive-wink-remixes-vol-1/2013894-02/
Shy   "If I  fall in love" (Tayo Wink Bang the Beat Mix)
Y.Adamz "Be still" (Tayo Wink City Soul Mix)

Here we have to uber cool reworkings by Tayo Wink sure to set the floor on fire… First up he takes on "If I  fall in love" by Shy, a r&b classic dating back to 1992 which he takes to new heights on his pounding 'Bang the Beat Mix', combining the incomparable vocals by Shy with a bad-ass backing. Next is his 'City Soul Mix' of "Be still" by Y.Adamz , a respectful four-to-the-floor interpretation which keeps the vibe and spirit of the original alive and lets Y. Adamz' inimitable voice shine.
Review by Mike Fossati
Dope !!
Out now !!
http://www.junodownload.com/products/x-klussive-wink-remixes-vol-1/2013894-02/