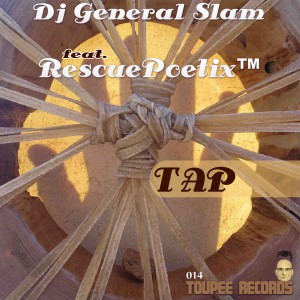 Cat #014
Title: Tap
Artist: Dj General Slam featuring RescuePoetix(tm)
Label: Toupee Records
OUT NOW !!!
get it here –> http://bit.ly/1mYv2Hg
DJ General Slam featuring Rescue Poetix "Tap" (Toupee Records CD Promo)
South Africa's DJ General Slam joins forces with spoken word artist Rescue Poetix for "Tap", a sure-fire dance floor bomb using ruthlessly thumpin' rhythms as playground for Rescue Poetix' unrivaled poetry and exhilarating synth melodies – in other words, jam-packed floors are guaranteed whenever you drop this wicked track. Also included is a fabulous broken beat interpretation oozing with a splendorous jazz infused laidback feel – sheer musical bliss.
Review by Mike Michael Fossati of Spirit of House
http://spiritofhouse.com
Tracklist:
1) Original Mix (6:41)
2)Tap-OriginalStrumental Mix (6:41)
3)DJ General Slam Broken Beat Remix (5:02)
4)Dj General Slam Brokenstrumenal Mix (5:02)
Vocal ppoken-word performed by RescuePoetix(tm)
produced by Dj General Slam (Gentle Soul Recordings)
Original piece written by : Rescue Poetix(tm)
Susan Justiniano BMI 2014
Booking and Info
RescuePoetix(facebook)
Email: rescuepoetix@gmail.com
sammyrock@mail.com
Produced By : Katlego Nombewu
Written & Performed by : Rescue Poetic
Mixed & Mastered at : Gentle Soul Recordings Studio's.
Twitter : @DeejayGeneral
Facebook : Deejay General-Slam
Cover Art by JorgeG Graphix
jorgegee@gmail.com
Keep your ear to the ground – Toupee Records.
This is another LaGata de Fuego Entertainment Joint 2014.