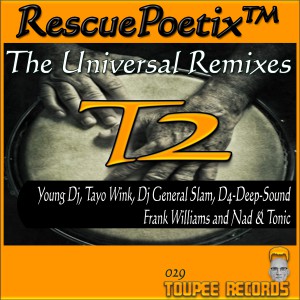 Cat # Toupee029
Title: #T2 : Tap 2
Artist: RescuePoetix™ – The Universal Coalition Remixes (Mixes by Young Dj, Dj General Slam,Tayo Wink, Frank Williams, D4 Deep, Nad, Ronald Overby(DjRonnieRon), Dj Punch and Tonic)
Target Release Date – December 2015
#T2 as we call it, is better known as "Tap" Part 2 – RescuePoetix™ Tap gets a serious set of remixes represented by US producers and producers from the world of House: from Newark, to Texas, from Toronto Canada to South Africa all of the producers come together to create a Universal Coalition production team second to none that include the hot Young Dj (SA), Tayo Wink (USA),Frank Williams (Toronto Canada), Dj Punch & Ronald Overby (USA), D4 – Deep Sounds (SA), Nad (SA) & Tonic (Global). Each one of these producers brings a unique vision of select sounds ranging from deep, soulful, afro house to broken beat and tech-house. This variety of texture in sound is what makes this package so appealing.
RescuePoetix™ spins a tale of the dancers ritual with a call for all to "Tap" the drums that drive our legacy of music and connection to ancestors and one another.. Tap to dance… Tap to move your body .. Tap ! Tap ! Tap !
Tracklisting:
1)Young Dj AfroRhythm (6:54) The hot Young dj out of South Africa delivers an "AfroRhythm" piece to make your head nod while the sensual voice and lyrics of RescuePoetix™ compel you to the dance floor
2)Tayo Wink Massive Rhythms Mix (7:17) Next we have another hot producer in Tayo Wink who has been on fire as of late. Tayo delivers a "Massive Rhythms Mix": soulful to the core and stays true to the vibe that house heads relate to when getting lost in the music
3)Frank Williams Safari Mix (8:13) New to the label is the talented Frank Williams with a banging percussion filled "Safari Mix", which brings out the best in dancers while you TAP your feet to the beat.This particular mix is one of my favorite off this awesome package.
4)D4-Deep-Sounds-So-Easy-Remix (6:46) Also on the A-list of mixes is D4 (Deep Sounds) "So Easy Remix" that is smooth and sexy with silky afro rhythms and has its place on the dance floor, wrapped in seductive tones, daring the dancer not to move.
5)Nad's Broken Tap Mix (7:16) Nad went on his own mission with a beautiful broken beat mix. The Broken Tap Mix is as funky as it gets.
6)DjRonnieRon Interpretation Mix (7:26) – Ronald Overby aka DjRonnieRon suprised us with this submisson and is another favorite of mine off this genuine package.
7)Dj Punch Afro Congo Drums Remix (8:06) Dj Punch delivers an Afro Congo Drum Remix which is his specialty and bangs the dance floor with his signature "punch"
8)Tonic Mix (6:46) – Tonic went off a new frontier with his tech-house mix that is not for the faint of heart. It's a departure from the expected, making it a truly unique vision!
Vocals/Lyrics Written and performed by RescuePoetix™