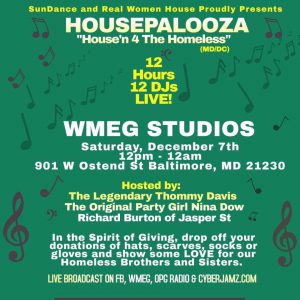 Special Event Alert!
SunDance and Real Women House Proudly Presents "HousePalooza" – House'n 4 the Homeless (MD/DC)!!
In the Spirit of Giving, we're house'n for our Homeless Brothers and Sisters in MD and DC!! We invite all to come to the WMEG Studio to drop off donations of hats, scarves, socks or gloves and enjoy the atmosphere of 12 UNFORGETTABLE HOURS OF HOUSE with 12 PHENOMENAL DJs!!!
Hosted LIVE in the WMEG Studios by The Legendary Thommy Davis, The Original Party Girl Nina Dow and Richard Burton of Jasper St. Playing for a purpose and blessing the decks:
MyTy (MD) (Introducing)
Tommy Wickens A-Plane (DC)
Jay L. (MD)
Darrel Lewis (MD)
Geoffrey Cee (MD)
Miss Frenchy (DC)
Housecat (DC)
Elmer DjScoob Mooring Jr. (MD)
@DjTMF / TMF1 Productions Productions Cookie Sookie (DC)
Tony Daniels (MD)
Cel (MD)
Shadawn Boyd – LoveGoddess (MD)
Special Guest Percussionist Shelia Shabazz (DC)
ALL donations will be divided between the MD and DC Homeless populations. We look forward to seeing you there! Tell a friend and bring more with you!!
For more information, contact DJs LoveGoddess (Shadawn Boyd) and HouseCat (Catherine Harris Rowell).
Proudly supported and promoted by @TMF1 Productions
#HousePaloozaMDDC – Stay Connected with info: https://www.facebook.com/events/2336529643123512/