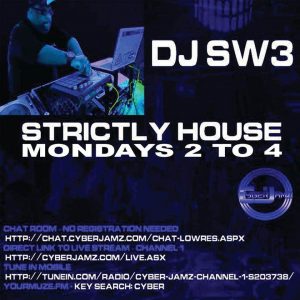 Check in every Monday from 2 – 4pm est (USA Time) for Baltimore's own DjSw3. His fantastic show entitled "Strickly House" features everything from Deep House to Afro..to that slamming signature Baltimore sound of which has us all dancing in our seats on Monday's
Check-in and check us out!
Cyberjamz Internet Radio(since 2003)
https://cyberjamz.com
Bio & Info:
Wesley (DJ SW3) Shaw, was born and raised in Baltimore, MD and grew up on the west side of town. DJ SW3 was introduced to DJing in 1977 by a true Baltimore Legend, Thommy Davis. He eventually got his start at a local recreation center called John Eager Howard playing for the party night there and became the house favorite. When he entered high school, he met his DJ partner Winfred (DJ Murphy's Law) Ford and they performed as a team. They played at local bars such as The Bear's Den (East Baltimore), Pete's Place (West Baltimore,) and The Place along with a host of other venues. Wes moved on to become Mobile DJ for Tom Gathers DJ Delight. And also at that time, Wes enrolled in Maryland Institute College of Art.
In 1986, DJ SW3 went on to enlist into the army and broke up the partnership, but before leaving for basic training Wes and Winfred taught a young person the art of DJing and even today, DJ Mark Moultrie still carries on. After marriage, children, and moving around from assignment to assignment the military took the music passion away. It was after his divorce, Wes found himself alone and in Hawaii. While on military duty there, he was injure repelling out of a helicopter and busted up his leg. Resulting from the accident, Wes was reunited to the art to music by a Reggae DJ who needed help doing a big beach party and his passion for music slowly returned.
In 2005, DJ SW3 returned back to Baltimore and slowly began to make his journey back to the art of DJing resulting from linking up with DJ Unique. As time went on, Wes finally reunited with DJ Thommy Davis through DJ Love Goddess and was introduced to DJ Ramsey and DJ Sahib Muhammad who helped guide and mentor him back into the House Music scene. Wesley is a member of Collective Minds and ONE HOUSE, ONE NATION. He says, "I will always remain grateful for my family, friends, and his PHAF & AM family for all their support" and smilingly adds, "House Music Lives!"
Facebook:
https://www.facebook.com/djsw3