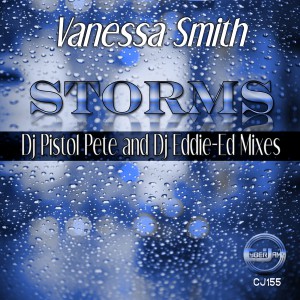 Cat#155
Title: Storms
Artist: Vanessa Smith – (Mixes by Dj Pistol Pete and DJ Eddie Ed)
Target Release: November 09,2015
Label: Cyberjamz Records
Vanessa Smith "Storms" (CyberJamz Records CD Promo)
The original version mixed by Pete Sierra – Dj Pistol Pete is smooth yet spell binding, fusing a groovey musical backing with magnificent jazzy keys, luscious chords and Vanessa Smith' gorgeous passionate vocals and spoken words. From Eddie Ed – Edward Ward comes an enthralling rework laced with irresistible percussive rhythms and illustrious keys that puts the emphasis on the spoken word as well as the fervid utterly tribaltastic 'Afro Drum Chant Mix' which is a real DJ delight.
Reviewed by Mike Fossati of Spiritofhouse.comTracklisting:
1)STORMS (ORIGINAL)
2)STORMS (SPOKEN MIX) Remixed by Dj Pistol Pete
3)STORMS (PETE NDA MIX) Remixed by Dj Pistol Pete
4)STORMS (GROOVE MIX) Remixed by Dj Eddie Ed
5)STORMS (CONVERSATION MIX) Remixed by Dj Eddie Ed
6)STORMS (AFRO CHANT MIX) Remixed by Dj Eddie Ed
Lyrics performed and written by Vanessa Smith
Songwriter Vanessa Smith (ASCAP)
Co-written by Petendamix (ASCAP)
Publishing: Goldstdj (ASCAP)
Executive Producers – Pete Sierra and Vanessa Smith
Producer – "Dj Pistol Pete" Sierra
Musical Arrangements – "DJ Pistol Pete" Sierra
Vocals – Vanessa Smith
Vocal Arrangements – Joe "Flame" Davis
Remixes by :
Dj Pistol Pete and DJ Eddie Ed
Cover by Vanessa Smith & JorgeGraphix
Keep your ear to the Ground – Cyberjamz Recs.
A&R SammyRock aka Soul Oasis Coyote Entertainment 2015