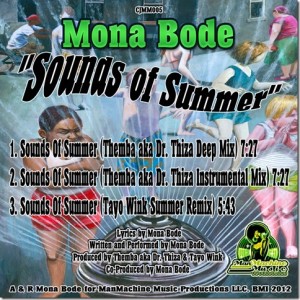 Mona Bode returns with a nice release right on time for the summer.This track offers deep musical elements bought to us by producers Thema aka Dr.Thiza and the hot Tayo Wink.
1)Dr.Thiza Summer Deep Mix
2)Dr.Thiza Summermental Mix
3) Tayo Wink Summer Remix
Lyrics by Mona Bode
written & performed by Mona Bode for ManMachine Music Productions LLC
produced by Themba (Dr.Thiza) & Tayo Wink
co-produced by Mona Bode BMI 2012.
ManMachine Music Productions LLC is a sub-labe of Cyberjamz Records & Coyote Entertaiment Publishing ASCAP 2012.
*for more of ManMachine Music Production releases check it out here —>  http://www.traxsource.com/index.php?act=search&ss=Mona+Bode&sc=artists
A & R Mona Bode for ManMachine  Music Productions LLC  2012.