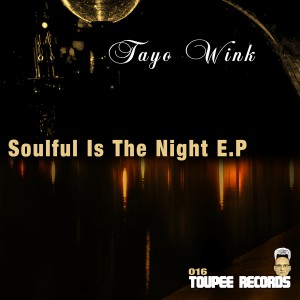 Cat#Toupee016
Artist: Tayo Wink
Release: Soulful is the Night E.P
Label: Toupee Records
out now !  bit.ly/1tTeqC9 
Tayo Wink delivers a serious dance floor package that packs a dance floor punch while keeping it soulful for the dancers.Throw your hands in the air and wave them like you just don't care!
We hope you enjoy this collection of fist-pumping music ! Score one for Toupee Records.
Release List:
1)Soulful Is The Night (8:57)
2)Stratosphere A (6:12)
3)DominiRico (6:24)
4)Mufasa (Massive Rythms Mix) (7:10)
5)Mufasa (Tayo's Massive Rythms Beat-a-pella Mix) (7:10)
All tracks produced,arranged and mixed by Tayo Wink
Artwork: JorgeG Graphix
bookings and info:
SeabeeWink@hotmail.com
sammyrock@mail.com
contacthousecat@gmail.com
Facebook:
https://www.facebook.com/tayo.wink
https://www.facebook.com/groups/cyberjamzrecords
Another Soul-Cat Joint 2014.